Community FactFinder Web Map Application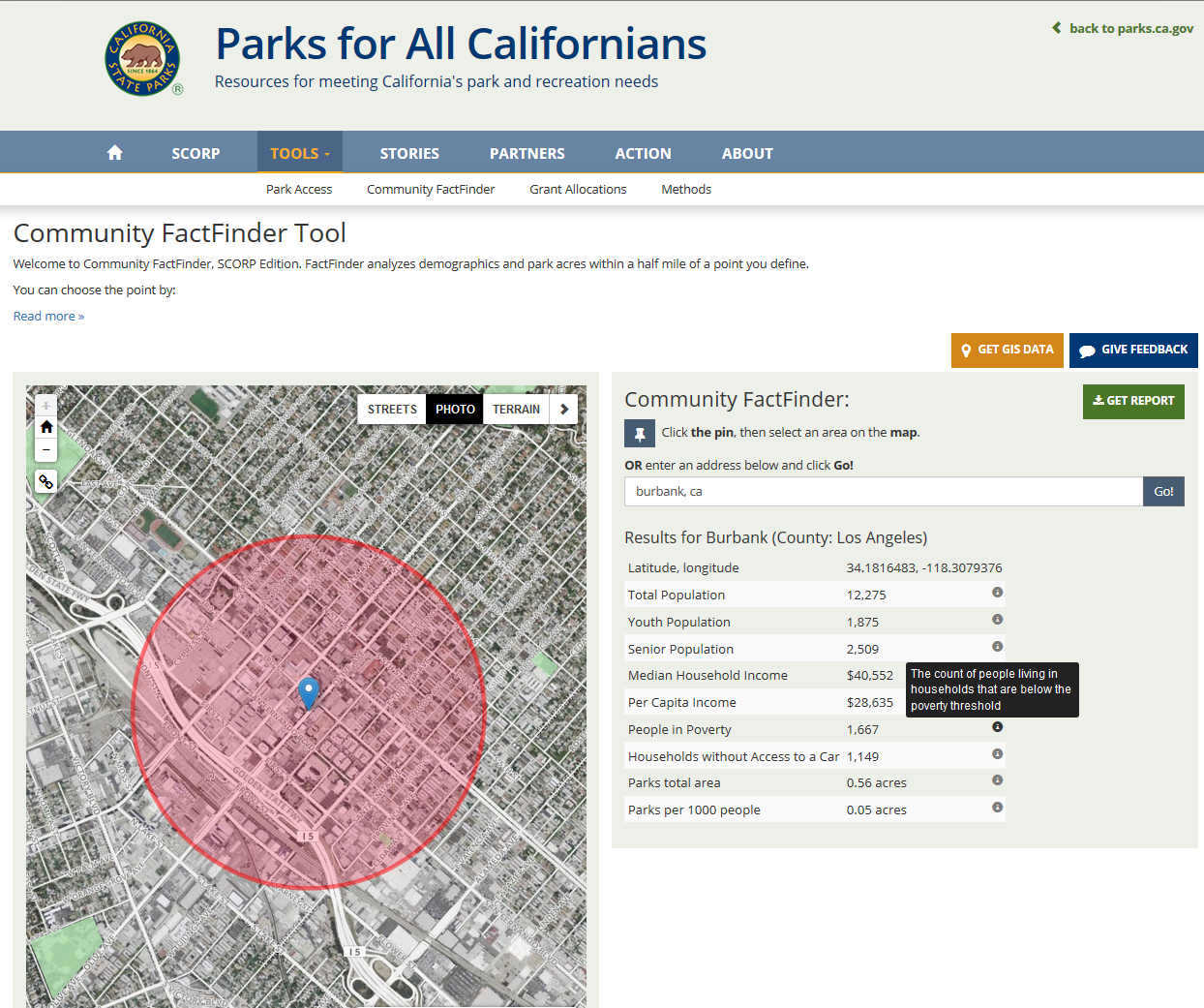 FactFinder
applications allow users to choose areas on a map and generate data reports on information present within those areas. The results of the query are available on-screen and in a well-designed PDF report. For example, a user can click a map and generate a half-mile circle that "cookie-cutters" into a number of layers of physical or demographic geographic information, returning counts, ratios, and other analysis within that area - with every query happening quickly in real time.
Use
FactFinder
applications to:
Qualify applicants to a program by determining metrics for given areas
Get basic on-demand profiles of neighborhoods, or custom-drawn areas
FactFinder
applications are intended for basic uses - for more complex onscreen queries and reports, learn more about our
Explorer
applications »
Example of FactFinder for Parks Funding Application
»
Contact us
to start a conversation about a
FactFinder
application »
---
DETAILS
The
California Dept. of Parks and Recreation
used GreenInfo Network's
Community FactFinder
application to ensure efficient and consistent grant applications for a fund of $300 million aimed at communities who had lower than average availability of parks.
Grant applicants had to begin their process by completing a FactFinder evaluation, which involved determining key metrics in a half-mile area around their proposed project site. If their site was below certain thresholds of park acres per thousand population or a certain level of poverty, users could then generate a report with their ID, which was tracked by an administrative interface available to the State Parks Department.
Learn more about Calif. State Parks Dept.'s use of FactFinder
»
When developing FactFinder applications, these options are available:
AREAS
used to define user focus zones can include:
Predetermined or variable radius (quarter, half mile, etc.)
Legislative or other district boundary
Zip codes
Census tracts, block groups
A freehand area drawn by a user
In addition, FactFinder can be programmed to accept user uploaded GIS files to use as "cookie-cutters", but those functions are normally better accomplished in our Explorer applications
DATA
that is selected by the user's geography boundary can include:
Point data (individual addresses, parks, schools, pollution emission points, etc.)
Census demographic data
Geographic layers (e.g., land uses, parks, streams/rivers, roads, etc.)
Explorer-level applications are better suited to any use of
raster
data.
REPORTS
in FactFinder applications are generated as PDF documents and can be formatted as simple or complex designs (see illustration below). Report IDs track with user submissions so that administrators can review the specifics of what the user has defined.
ADMINISTRATION
of FactFinder is possible through a special interface, if needed - administrators can accept, decline or otherwise take action on user areas that have been submitted.