MapCollaborator is GreenInfo's Custom Data Viewer and Editor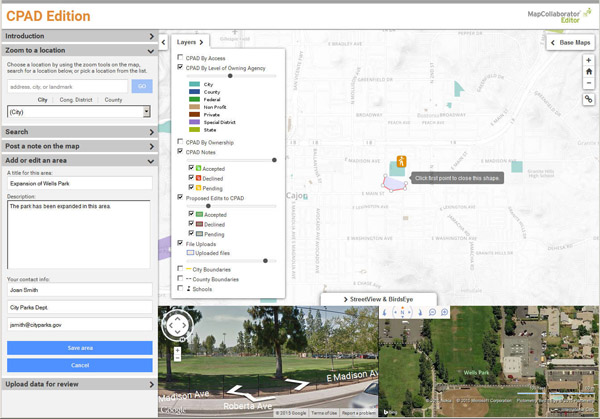 GreenInfo's
MapCollaborator
application framework can be used for simple layer browsing, to guide users' review of data sets, or to support custom mapping functions - to support this, there are three levels of MapCollaborator:
Viewer
,
Editor
and
Pro
(custom). MapCollaborator is an affordable solution, though actual costs depend on data used and how much customization you need. MapCollaborator(tm) is a registered trademark of GreenInfo Network.
Try out a demonstration versions:
MapCollaborator -Viewer Edition
(features sea level rise data) »
MapCollaborator - Editor Edition
(features protected areas data) »
Contact us
to start a conversation about
MapCollaborator
!
MapCollaborator Viewer - Browse Data Layers
MapCollaborator
Viewer
is a quick-to-deploy browser that can show up to 15 data layers, allowing you to zoom in, switch base maps and turn layers on/off, plus adjust layers' opacity. The application also includes a data dictionary that can provide details on each data layer, and it allows you to share a link with others, showing them exactly where you're looking and what layers are turned on.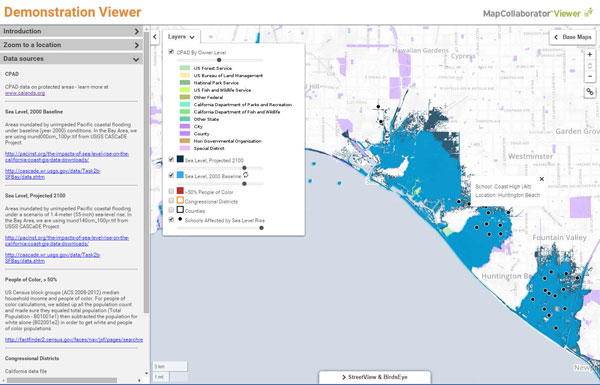 MapCollaborator
Viewer
is ideal for users who just want to explore areas of concern but have access to needed data. Note that Viewer layers cannot be styled to provide high quality views when many are active at once - they allow for data exploration and are not intended as polished web mapping views.
MapCollaborator Editor - Place Notes and Draw Shapes
MapCollaborator
Editor
allows you to "crowdsource" your data - like a wiki, anyone you allow can post notes, make edits, even upload their own GIS data. It's been used to develop park inventories, create data on school boundaries, identify playgrounds and other facilities, track local plans, and more.
View some of these MapCollaborator Editor projects
. » (note - some of these use our older user interface design)
MapCollaborator
Editor
is suitable for:
Inviting a wide range of non-technical users to quickly review GIS data and comment on it using pinnable notes on screen or drawing actual polygons to indicate areas of change or interest - these notes are viewable by other users, enabling geographic discussions
Creating basic point, line or simple polygon GIS data - MapCollaborator application tools are easy to use and allow any number of users to quickly develop large datasets (MapCollaborator does not replace high precision GIS-based digitizing, but does accurate creation of simple GIS shapes).
Analyzing and reporting on a wide range of GIS data, by allowing users to select data that falls within set geographies (e.g., county, census, legislative districts) and then to generate spreadsheet or PDF reports of that data.
Upload GIS data (shapefile or KML) for instant review, comparing one data source to another, or adding data sets into the MapCollaborator database.
MapCollaborator Editor includes an administrative panel (see example below) where data managers can accept, decline, or take other actions on submitted notes and data, including the capacity to generate automatic or custom emails to submitters. Created or uploaded data can also be downloaded for use in desktop GIS.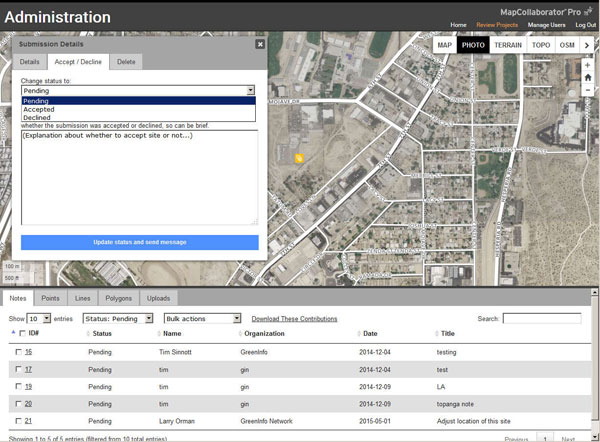 While MapCollaborator Editor is not a replacement for full-featured GIS, it is a tool for simple and quick data creation and data review. Its data outputs are GIS files and can easily be placed into desktop GIS applications for further development and processing.

MapCollaborator Pro - Custom Mapping Functions

MapCollaborator Pro is a highly customized version of the application, for those requiring extended functions, attributes display, detailed search and find options, extensive map overlays, and specialized processing of submitted data.