Park and Open Space GIS Data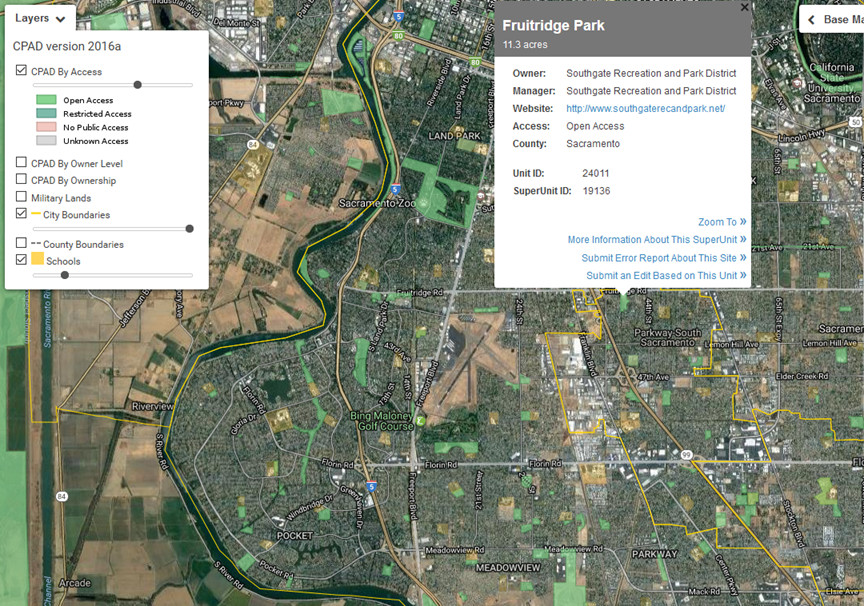 GIS inventories of parks, open space and other protected lands are crucial for many purposes, include biodiversity conservation, land use planning, recreation provision, transportation/energy siting and more. GreenInfo Network has extensive experience in preparing
statewide GIS inventories of park and open space lands
, based on its work in developing the
California Protected Areas Database
(CPAD - see below for more information).
GreenInfo can also help develop
recreation facility GIS inventories
(playgrounds, ball fields, etc.) -
Learn more
»
Contact us to start a conversation about Park & Open Space Data Inventories!
---
DETAILED INFORMATION
GreenInfo's park, open space and recreation data development services include:
Overall strategy for the data set, including user assessment, host organization capacity and longer term business planning
Design of databases to support these strategies, including data and relationships definition, output report design, documentation of work flow and other elements
Development of GIS data, including digitizing, harvesting or assembling park data using GIS tools and crowd sourcing or other online data creation tools.
Creation of web sites and park/trail/facility "finder" applications, including web applications that work well on mobile devices (Learn more about these applications »)
Inventories can be based on simple or complex data structures - in the illustration below, protected areas are identified by parcel and aggregated into commonly named units.
GreenInfo has specialized tools and procedures for integrating multiple data sources to create these inventories, developed in our work building the largest such statewide database in the United States,
CPAD
- see notes below. One of the most important tools is our MapCollaborator application (
Learn more about MapCollaborator
» ):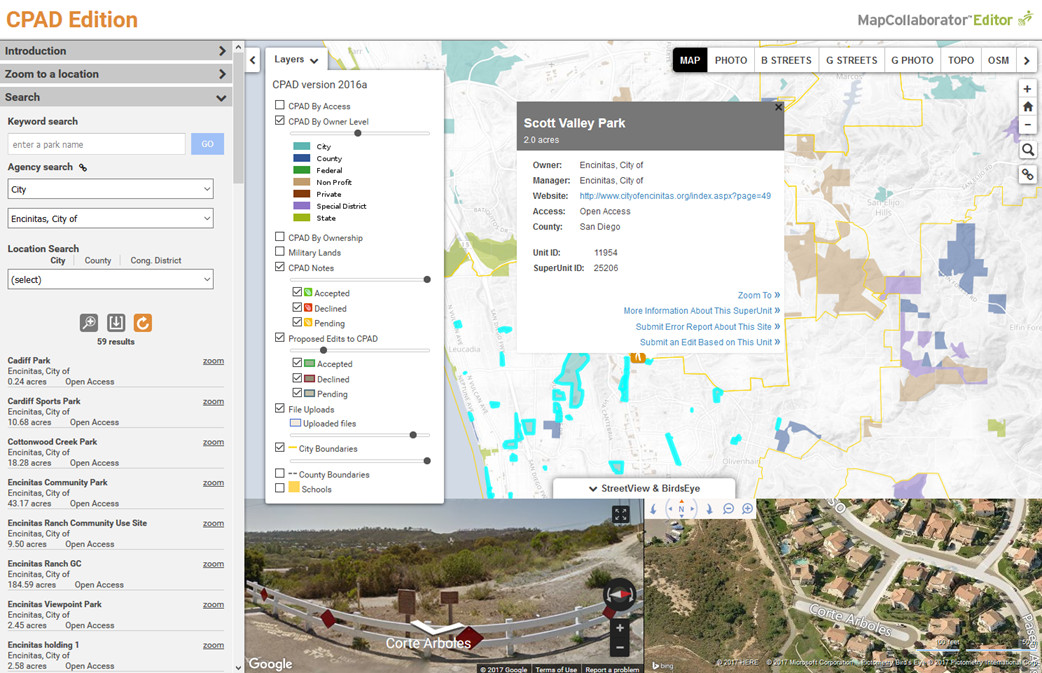 GreenInfo does not develop agency land inventories that are intended to be official legal land records or other survey-grade data.
About CPAD
: GreenInfo Network is the creator and publisher of the
California Protected Areas Database
(CPAD). This GIS inventory of parks and other dedicated open space lands includes 49 million acres in 14,000 individual units (parks, forests, refuges, etc.), owned in fee by 1,000 public agencies and some nonprofit organizations. CPAD is an element of the USGS Gap Analysis Program's
Protected Areas Database of the United States
(PAD-US)